By Newsgd.com
In 2021, the GDP of the Guangdong-Hong Kong-Macao Greater Bay Area was RMB 12.6 trillion, an increase of RMB 2.4 trillion from 2017.
There are now 25 companies in the GBA listed in the Fortune Global 500, a growth of 8 compared to 2017. In addition, there are more than 60,000 high-tech companies in Guangdong, mainly located in the region of Grande Baie, more than 20,000 more than that. in 2017.
This information is according to Zheng Renhao, director general of the Guangdong Development and Reform Commission at a press conference on the development of GBA and Shenzhen as a pilot zone for demonstrating socialism with Chinese characteristics.
In terms of technological innovation, 5 major scientific and technological infrastructures have been planned for Grande Baie during the 14and Five-year plan period (2021-2025), ranking first in China. Now, the GBA houses 10 provincial laboratories and 20 laboratories set up jointly by the three regions.
The number of foreign talents in Guangdong accounts for 20 percent of the national total, and the province's research and development personnel has exceeded 1.1 million.
A one-hour living circle has basically been formed within the GBA with the construction and operation of the Hong Kong-Zhuhai-Macao Bridge, the Guangdong-Shenzhen-Hong Kong Express Rail Link and other cross-channels linking east of the Pearl River estuary. and west shores. The total mileage of railway lines in service in the GRB reached almost 2,500 kilometers.
Guangdong-Shenzhen-Hong Kong Express Rail Link (Photo: Nanfang Daily)
A world-class airport cluster and a port cluster are taking shape. Today, the GBA has a throughput of 200 million passengers and a port container throughput of 80 million TEUs.
In addition, the Guangdong-Macao Deep Cooperation Zone in Hengqin has more than 4,700 Macao participation enterprises so far, which has tripled in the past two years.
Shenzhen's export volume ranks first among mainland cities for 29 years
According to Huang Min, Executive Vice Mayor of Shenzhen, Shenzhen's GDP in 2021 exceeded RMB 3 trillion, of which the proportion of social investment in R&D reached 5.46%. Its import and export volume totaled RMB 3.5 trillion, with exports ranking first among cities on the mainland for 29 consecutive years, and the actual utilization of foreign investment about $11 billion.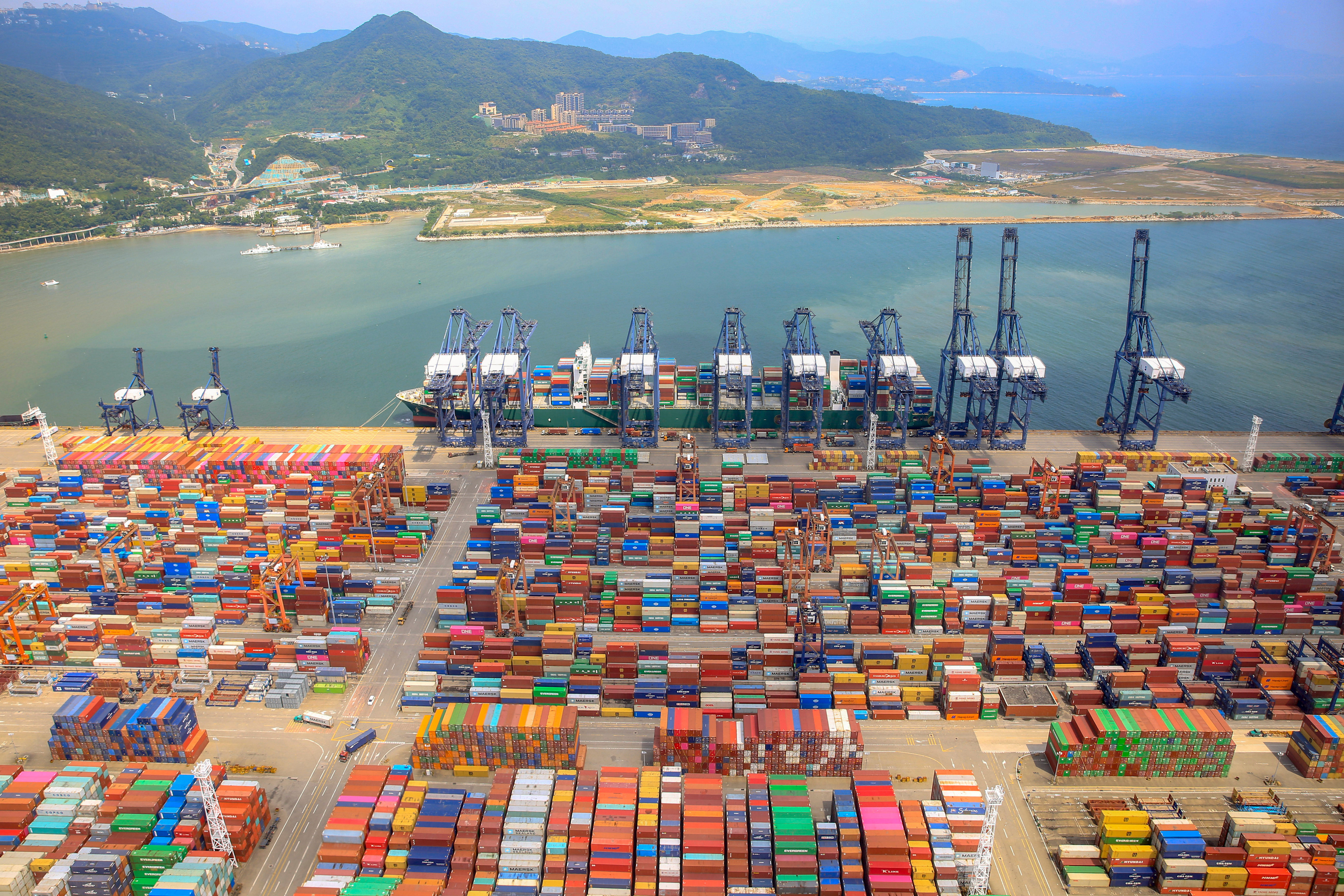 Busy Yantian Port in Shenzhen (Photo: Nanfang Daily)
Last September, the central authorities released a plan to deepen the reform and opening up of the Qianhai Shenzhen-Hong Kong Modern Service Industry Cooperation Zone, expanding its total area to 120.56 km2 from 14, 92 km2. To date, the Qianhai Extended Cooperation Area has 11,900 Hong Kong-funded enterprises, with a GDP of RMB 175.57 billion, an increase of 10.5%.
Huang added that 2021 has seen a 156 percent year-on-year increase in Hong Kong-funded businesses settling in the area. Investments from Hong Kong accounted for 93.8% of Qianhai's actual use of foreign capital.