National security annihilates anything political or democratic.
The 2022 Hong Kong Book Fair was held at the Wanchai Convention and Exhibition Center for seven consecutive days from July 20, but the flow of people was much less than in previous years. The number of participants dropped significantly on the first day of the fair.
When reporters arrived around 9 a.m., they did not see the long queue outside the exhibition venue that had been common on previous occasions. Instead, everyone could avoid queuing in the hot sun and enjoy the cool air conditioning at the fair.
Some participants came as early as 5 am to be sure to get their autographed favorites in limited quantities.
As part of the current pandemic protection, each attendant had to use the "LeaveHomeSafe" app to scan the QR code and view a vaccination record before entering the site. The organizer had put up yellow banners to remind people to "maintain social distancing" while queuing, but only a small number of people followed the advice.
It was a beautiful day, and the sun was shining brightly. Max, an attendant, arrived around 7 a.m. He pointed out that the main reason he came so early was: "I don't want to sunbathe outside; it's not good to have a sauna there. He pointed out that the morning crowd was "much less" than he expected. He had a budget of around $500 (US$64) to purchase books and targeted these EHR-related notebooks to prepare for the upcoming college entrance exam.
The book fair offers many publications in one place for easy browsing and selection. When asked if he wanted to buy political books, Max said bluntly: "There is censorship on books this year, and after such a selection, those who stay here may not be what I prefer.
Mr. Wong, another visitor, also arrived around 7 a.m. because he wanted to get an autographed edition. He said: "Coming earlier means being able to feel more relaxed." Mr. Wong believed that the number of people was still lower than last year. Without summer vacation this year, many young people might not be available.
Another participant, Ms. Yuan, said she was there around 9:00 am. Usually, every year, she came to the book fair on opening day. She did not come to buy books but to buy stationery. She estimated that there were fewer people this year. "It's easier to get in this year; in the past, you would still be standing in line under the sun at this hour. She also pointed out that while you had to scan a QR code through the 'LeaveHomeSafe' app, "but it was more like 'machines waiting for people, not the other way around'.
Sparse crowds and no embarrassing incidents
As the number of attendants was low, embarrassing situations such as "trolleys run over someone's shoes" were no longer observed.
The exhibition opened at 10:00 a.m., and the first visitors "crossed the line" and rushed to the booth of their choice. As usual, the big publishers held the most important positions.
An Epoch Times reporter visited several bookstores specializing in exercise books or homework supplements. The flow of people was somewhat sporadic and it was easy to wander around the various book stalls; I have never encountered "people bumping into people" or people stacking carts with books, like in the past.
Xi Jinping's books prominently
Several publishers were denied participation in the exhibition, and the "Hong Kong People's Book Fair" they planned to hold as a spin-off was also canceled.
Still, the TDC maintained that there was no censorship before the exhibition.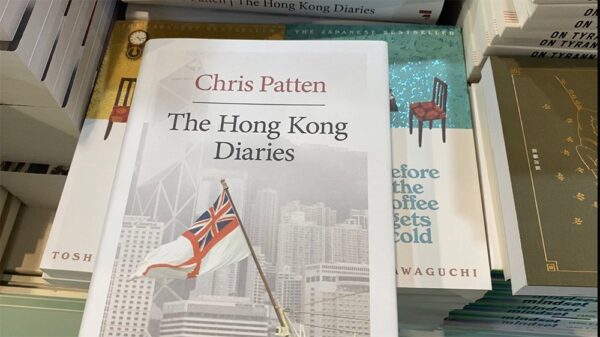 The Epoch Times reporter visited several stalls and found only a minimal number of books deemed "politically sensitive," but there were still a few left to find, such as the former Hong Kong governor's new book , Chris Patten, "The Hong Kong Diaries", British author. George Orwell's novel "Animal Farm" and journalist Guo's "Hong Kong Lost Voice" about the social situation in Hong Kong after the anti-extradition movement in 2019.
On the contrary, books related to Xi Jinping or Mao Zedong were placed in prominent places and featured prominently on the stands of some major publishers.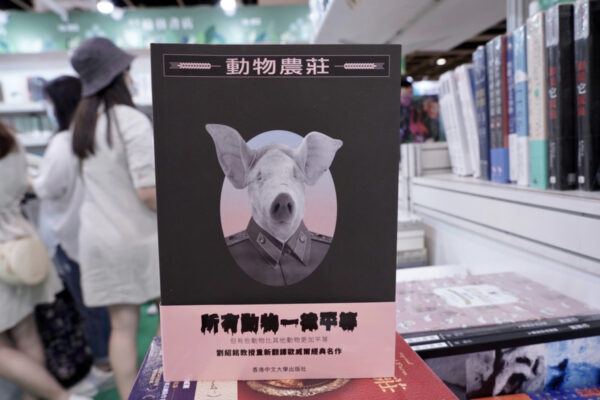 Ni Kuang's Books in High Demand
Ni Cong, better known by his pseudonym Ni Kuang, the recently deceased mass sci-fi novelist and screenwriter, has asked his fans to sweep up everything on display lest they will soon be unavailable. The publisher printed more to meet such an increase in demand. Some publishers also exhibit his manuscripts and signed works. Many have also added pieces from Ni, including the TV series from his "The Legendary Ranger" novel series, which is currently airing in the early morning hours. Due to public demand, the selling price dropped from $58 (US$7.4) to $78 (US$10) per copy after only a few hours.
Ms. Wu and her daughter went to a bookstore selling Mr. Ni's books. She said she liked the book "Toys" very much, saying that Ni had extraordinary wisdom decades ago, and admired her very much. His daughter is also a fan of Ni. She thinks Ni Kuang was an intelligent person who expressed his thoughts directly.
The novels he wrote make people want to keep reading, especially the "Blue Blood Being". Ms. Wu said that as long as her daughter likes her, "I will buy Ni's books because I'm afraid they won't be published in the future."